Posted on August 23, 2019
With heating season approaching, as well as the back-to-school season, we figured it was as good a time as any to take a look at how your air conditioning system performed this summer. While typically grades aren't given out until after school ends, your AC equipment is getting an early review!
Read full post
---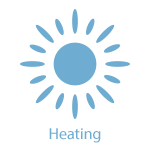 Posted on August 19, 2019
We can't predict the weather – but we can help you predict your heating oil prices! Now that the summer is beginning to wind down, we'd like to discuss your options for managing your fuel costs during the approaching heating season. Your friends at North Shore Fuel want you to know that fuel costs don't have to get out of hand! Take advantage of…
Read full post
---
Posted on July 25, 2019
No matter the season, your energy usage is something that's worth keeping an eye on. Sometimes, however, it isn't as easy to see where your energy dollars are ending up. Is your conditioned air slipping through the cracks? Don't let it go any further – call North Shore Fuel for a home energy audit!
Read full post
---