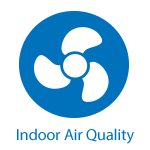 Posted on April 22, 2019
If you asked every Massachusetts homeowner what their favorite part of the spring season is, they definitely wouldn't say it's the allergies! The good news is that allergens – such as pollen, dust, pet dander, and more – can be kept away from the air inside the home with a whole-house filtration system!
Read full post
---
Posted on April 10, 2019
It's that time of year when homeowners throughout Massachusetts begin to think about the state of their air conditioning systems – and begin looking for ways to ensure they operate reliably, effectively and efficiently this year.
Read full post
---

Posted on March 20, 2019
With Wi-Fi and streaming television services, every household these days is looking to reduce the amount of electronic clutter by joining the wireless revolution. When it comes to your air conditioning system, you can join a similar movement – the ductless revolution! When your AC equipment utilizes a ductless system, you'll notice some big changes…
Read full post
---