Posted on July 25, 2019
No matter the season, your energy usage is something that's worth keeping an eye on. Sometimes, however, it isn't as easy to see where your energy dollars are ending up. Is your conditioned air slipping through the cracks? Don't let it go any further – call North Shore Fuel for a home energy audit!
Read full post
---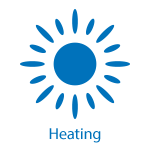 Posted on July 16, 2019
We've seen some pretty high temperatures this summer, and it got all of us here thinking about our Massachusetts homeowners' heating systems! It may seem odd to think about staying warm now, but that's just how we stay on top of your comfort. The heating season is a few months out, but it's never too early to prepare!
Read full post
---
Posted on June 27, 2019
Unless you can see the future, there's no telling what kind of trouble your heating and air conditioning systems can get into. That's why, no matter what season is in full swing or on the way, preventative maintenance is crucial to the comfort of Massachusetts homeowners!
Read full post
---